The Animal Foundation Receives Grant from PetSmart Charities to Help More Shelter Pets Find Homes in Las Vegas
The Animal Foundation Receives Grant from PetSmart Charities to Help More Shelter Pets Find Homes in Las Vegas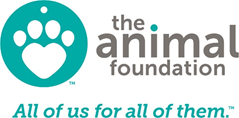 THE ANIMAL FOUNDATION RECEIVES GRANT FROM PETSMART CHARITIES®
TO HELP MORE SHELTER PETS FIND HOMES IN LAS VEGAS

LAS VEGAS– The Animal Foundation has received a grant from PetSmart Charities to help prepare more shelter pets in Las Vegas to find loving homes. With the help of this grant, The Animal Foundation will provide medical care and treatment to get animals ready for adoption, including spay/neuter, vaccinations, microchipping, medications, and vet services—all vital to ensure that the animals are ready to thrive in their forever homes, while helping to control animal overpopulation issues in the community, as well.
"This PetSmart Charities grant will ensure pets are ready for happy lives as soon as they're adopted," said Daryl Sprague, Chief Development and Marketing Officer of The Animal Foundation. "Our mission is to save the lives of all healthy and treatable animals in the Las Vegas Valley, and this grant helps us make even more progress toward that goal."
"We're proud to support The Animal Foundation in its efforts to prepare shelter pets for adoption," said Sophie Faust, adoption grants manager at PetSmart Charities. "Thanks to this work, thousands of pets will receive vital care, along with the best chance of finding loving homes."
Since 1994, through its partnership with nearly 4,000 humane societies, SPCAs and pet rescues across North America, PetSmart Charities has helped more than 9 million pets to find loving homes via its in-store adoption program in over 1,650 PetSmart® stores. The leading funder of animal welfare has also donated nearly $400 million to positively impact communities, to help preserve families, to improve access to veterinary care and to connect people and pets through initiatives like this with The Animal Foundation.
###
ABOUT THE ANIMAL FOUNDATION
The Animal Foundation is a private, 501(c)(3) nonprofit organization dedicated to saving the lives of all healthy and treatable animals in the Las Vegas Valley. The Animal Foundation operates one of the highest volume single-site animal shelters in the country, saving more than 15,000 pets in 2020. Founded in 1978, The Animal Foundation's lifesaving programs are designed to address the root causes of pet overpopulation and homelessness and include: adoptions; low-cost spay/neuter, microchipping and vaccination services; lost & found pets; Community Cats; and more. To learn more about The Animal Foundation or view adoptable pets online, visit animalfoundation.com
About PetSmart Charities®
PetSmart Charities, Inc. is committed to finding lifelong, loving homes for all pets by supporting programs and thought leadership that bring people and pets together. Through its in-store adoption program in all PetSmart® stores across the U.S. and Puerto Rico, PetSmart Charities helps to find forever homes and families for more than 600,000 shelter pets each year. Each year, millions of generous PetSmart shoppers help pets in need by donating to PetSmart Charities using the PIN pads at checkout registers inside PetSmart stores.  In turn, PetSmart Charities efficiently uses more than 90 cents of every dollar donated to fulfill its role as the leading funder of animal welfare in North America, granting more than $450 million since its inception in 1994. Independent from PetSmart Inc., PetSmart Charities is a 501(c)(3) organization that has received the Four-Star Rating from Charity Navigator, a third-party organization that reports on the effectiveness, accountability and transparency of nonprofits, for the past 17 years in a row – placing it among the top one percent of charities rated by this organization. To learn more visit www.petsmartcharities.org.