Low-Cost Vet Clinic
Low-Cost Vet Clinic
The Low-Cost Vaccine Clinic is open BY APPOINTMENT 7 days per week 10 am - 3 pm with curbside service for vaccines and microchips. If you are unable to schedule an appointment online, please call 702-955-5955 for assistance. Walk-ins can be accommodated on a first come, first served basis between the hours of 10 am - 1 pm. Please note that without an appointment, wait times may be in excess of one hour. Scheduling an appointment online is always recommended. Thank you for your understanding.
Schedule an Appointment
The Low-Cost Spay and Neuter Clinic has re-opened BY APPOINTMENT ONLY with curbside service. Please call 702-955-5955 to make an appointment.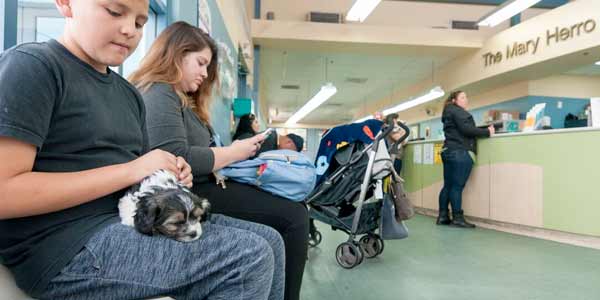 Our clinic is about more than affordable care.
The Animal Foundation's Low-Cost Vet Clinic prides itself in offering low-cost spay and neuter, cat and dog vaccines, and microchipping for dogs and cats in Las Vegas and the surrounding community.
Our team of highly-skilled, compassionate, medical professionals provides unparalleled experience and expertise. As the highest volume single-site animal shelter in the nation, our Low-Cost Vet Clinic performed 17,845 spay and neuter surgeries, 16,679 microchipping implants, and 15,100 vaccinations last year alone. Rest assured, our caring staff of medical professionals provides the best care (at the best value) in the Las Vegas area to keep your pet(s) in great health.
---