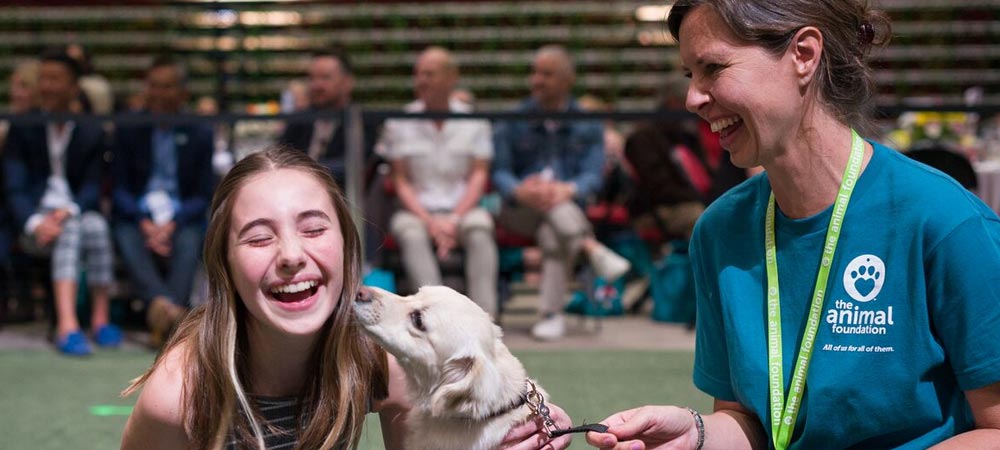 Some of the most rewarding volunteer opportunities in Las Vegas are at The Animal Foundation, where you can help save the lives of lost and homeless animals every day and in many different ways.
Volunteering at The Animal Foundation in Las Vegas is not about one-size-fits-all volunteer solutions. We appreciate that volunteers give their hearts, their time, their talents, and their all to support our programs. That's why we make sure our volunteers have the opportunity – and the choice – to help with everything from walking dogs and socializing cats, to doing laundry, supporting our enrichment team, and helping at special events.
Our goal is to find a volunteer opportunity worthy of your unique talents, and one that excites and inspires you. By joining The Animal Foundation's volunteer team, you'll help transform animal lives and do good things for the community while making new friends and discovering new skills. Every day at the animal shelter is different, and every minute makes a difference!
Animal Socialization Volunteers
By volunteering in Las Vegas at The Animal Shelter you can help ensure homeless dogs and cats get the TLC they need (and deserve) every day by becoming a Canine and/or Cat Companion. Canine Companions walk, socialize, and enrich our dogs available for adoption, making their lives infinitely better. Cat Companions give lots of love, attention, and enrichment to our adoptable cats.
More experienced animal shelter volunteers can continue to help those dogs most in need at the shelter by running dogs to playgroup and participating in advanced level training to help teach our dogs the skills they need to help them find a home and stay in that home. Animal socialization happens daily from 11:00 am to 7:00 pm at both our main GreenGale Campus at 655 Mojave Road in Las Vegas and at our Everyday Adoption Center in Henderson.
Special Events and Community Outreach Volunteers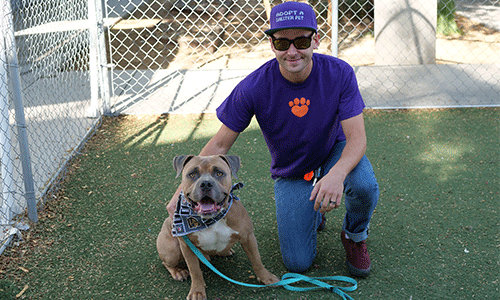 The Animal Foundation often holds special events at the animal shelter or in the community. These outreach efforts are essential in raising funds to support our mission and in raising awareness to find homes for the animals we serve. Special Events and Outreach volunteers interact with the public, host tables, answer questions, and provide the Las Vegas community with information on who we are and what we do.
Volunteers have the opportunity to fill various roles at events, such as helping with set-up and tear-down, selling Animal Foundation merchandise, caring for the animals, talking to potential adopters and making sure the animals "shine".
Administrative Support Volunteers
There are numerous behind-the-scenes needs at The Animal Foundation in Las Vegas that require additional human resources. Administrative staff routinely need assistance with data entry, writing thank-you notes, filing, phone calls, and other clerical tasks or special projects. Hours are arranged with the administrative staff based on their needs and your availability. Some projects can even be done from the comfort of your home.
Helping Hands and Special Requests Volunteers
You might think that volunteering at The Animal Foundation requires you to have direct contact with animals, however, we also need help meeting the needs of our daily operations. Greeting guests, assisting with laundry, creating enrichment treats, beautifying our campus, and sorting donations are a few examples of important daily tasks that contribute to the health and happiness of the animals we serve.
We also need volunteers with special skills to assist with projects, such as marketing, photography, social media, and other creative and unique projects. There are also specialized animal handling volunteer opportunities available, such as assisting our staff groomer or lending a hand to help get our adoptable animals ready to be photographed.
Visiting Group Volunteers
Currently, due to COVID-19 precautions, we are not inviting Visting Volunteer Groups on campus. We will continue to assess the situation and provide updates when groups will be invited back to volunteer on-site.
If you have any questions, please email the Volunteer Team at volunteer@animalfoundation.com.
Community Cats Program Volunteers
Trap-Neuter-Release (TNR) is a humane method of managing feral and free-roaming cats in the community. Feral and free-roaming cats are humanely trapped, spayed or neutered, vaccinated, and returned to where they were trapped. These cats are able to live healthier and happier lives while no longer reproducing. Volunteers are needed to trap, transport, and release cats, in addition to various other related tasks. Hours vary and are on an as-needed basis.
What else can you do as a volunteer?
View our directory of volunteer assignments for more detailed volunteer descriptions.