Penny is thriving in her foster home!
Penny is thriving in her foster home!
Penny's DNA Results are in!
Foster home life sure looks good on Penny.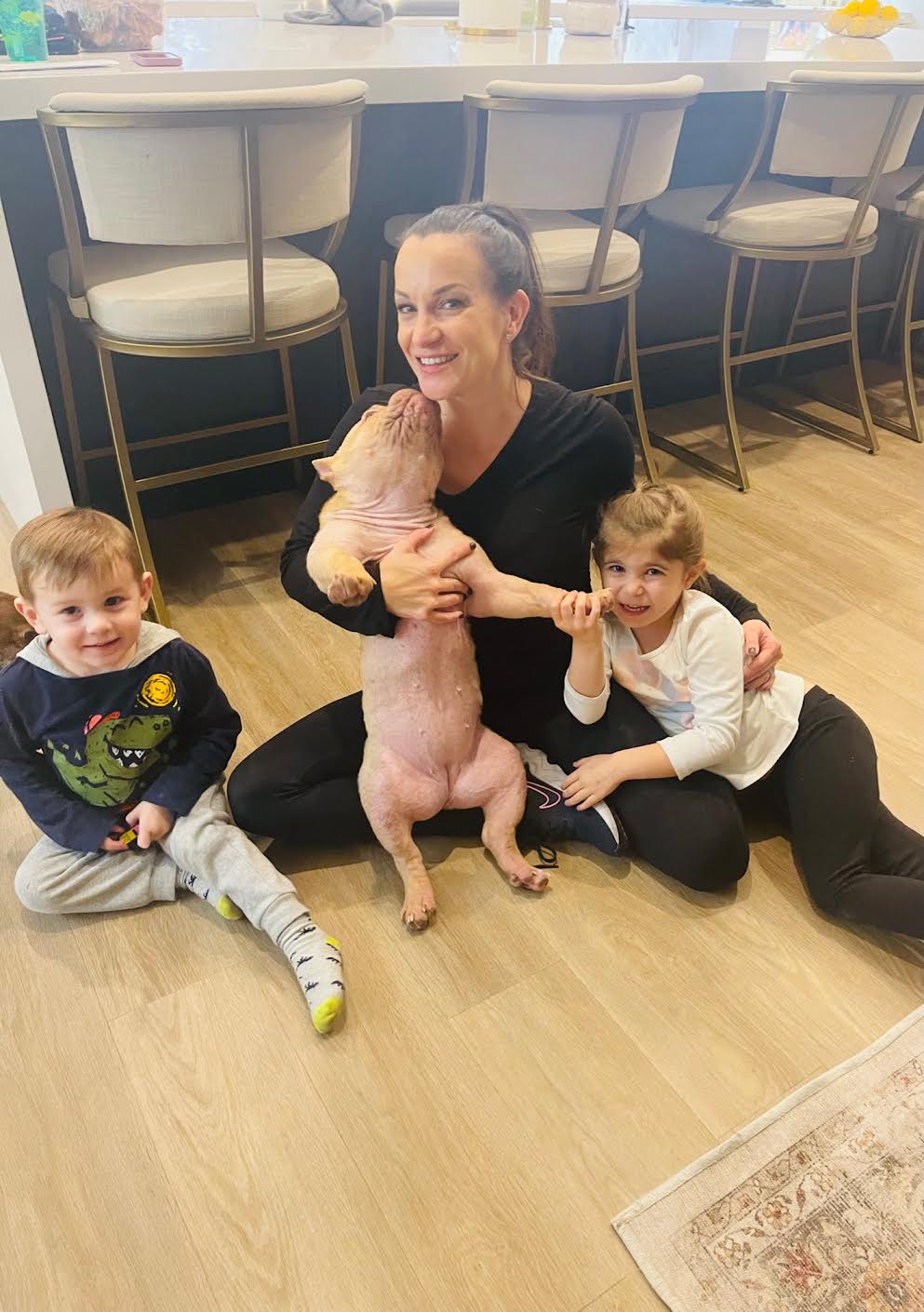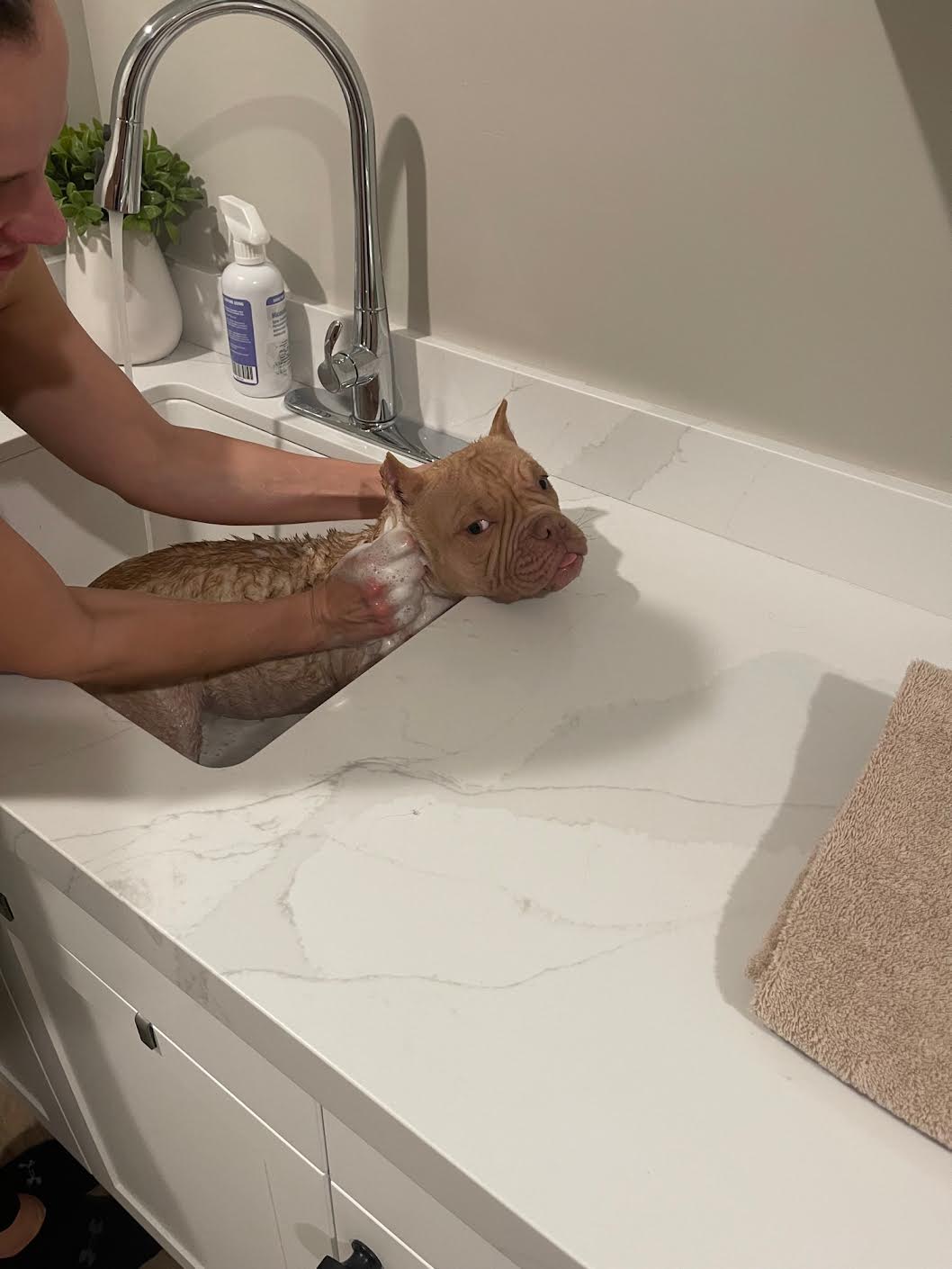 Penny came to The Animal Foundation five weeks ago with a severe case of mange. Her skin is looking much better these days, and she's put on some much-needed weight. We're so happy for her!
Penny adores her foster family, and you can see they feel the same way about her.
Many of you have asked us, what kind of dog is Penny? We ordered an Embark DNA test and just got her results back! We can now confirm she is:
71.7% American Bully
17.3% Bulldog
11.0% French Bulldog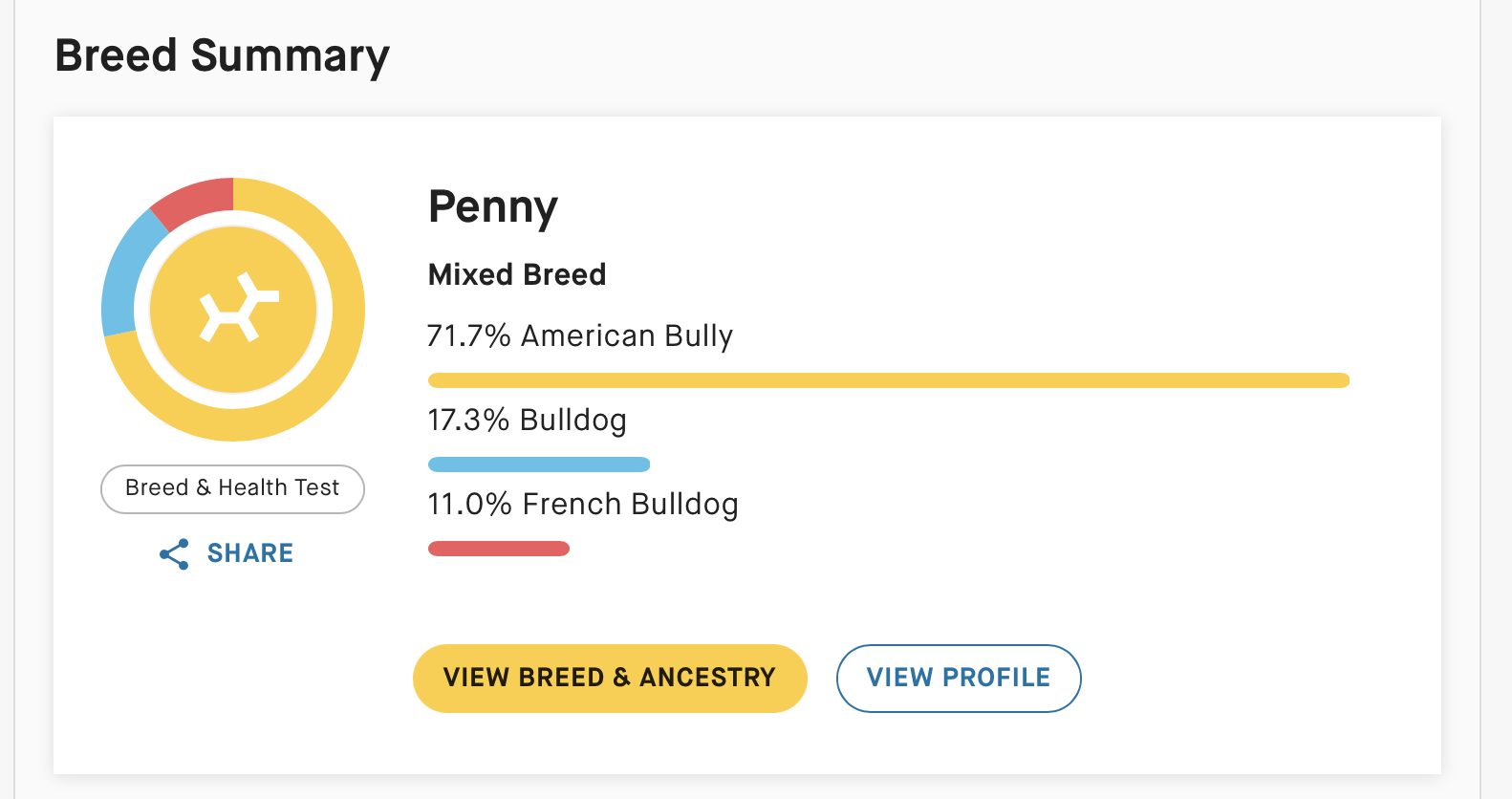 What do you think of the results? Are you surprised?
The truth is, we never know what breed our shelter dogs are and it's impossible to guess based on appearance alone. Visual breed identification is often inaccurate and can lead to misleading and inaccurate stereotypes. One thing is for sure, though – Penny is 100% adorable.
Penny is thriving in her foster home!
What a transformation! Our sweet Penny is doing fantastic in her foster home.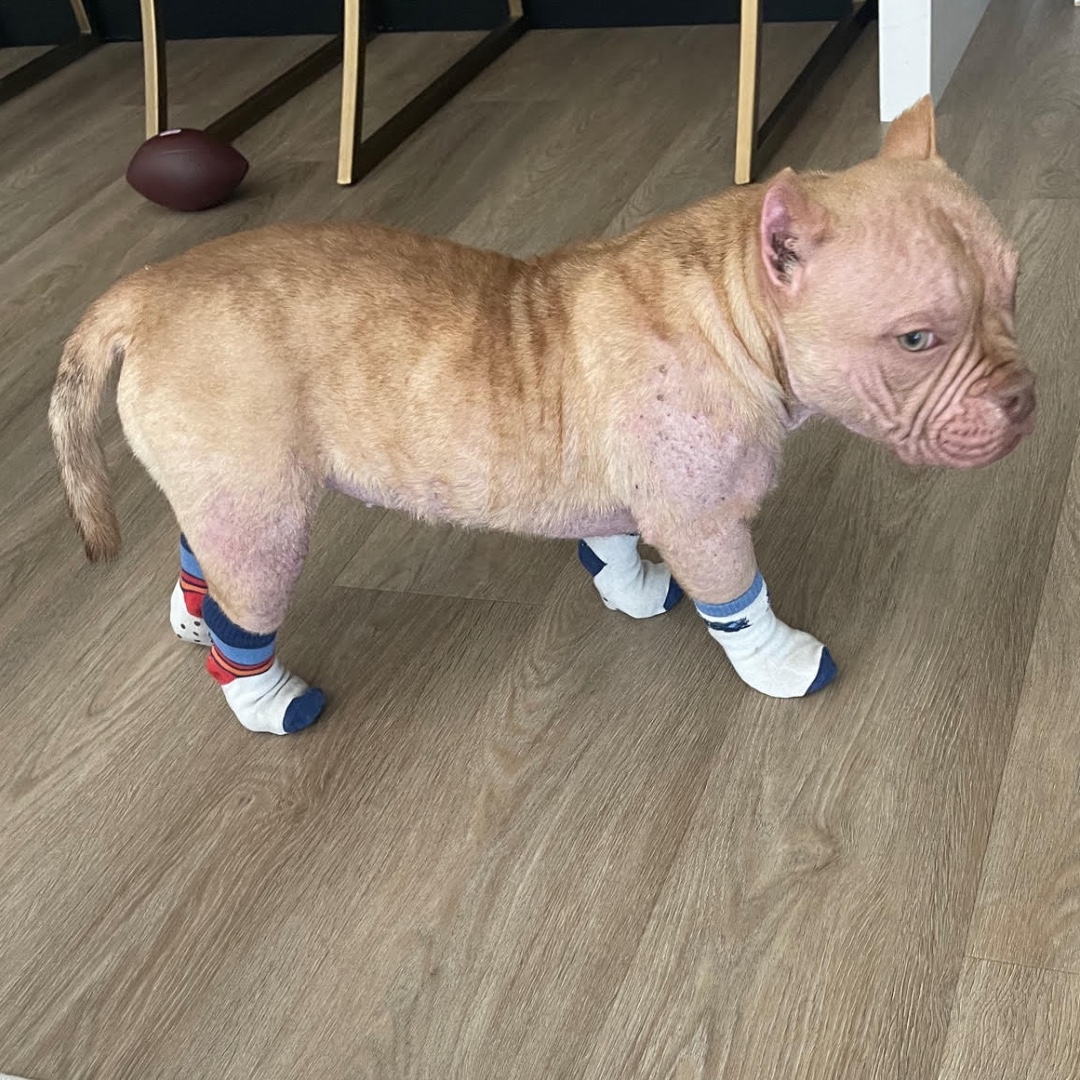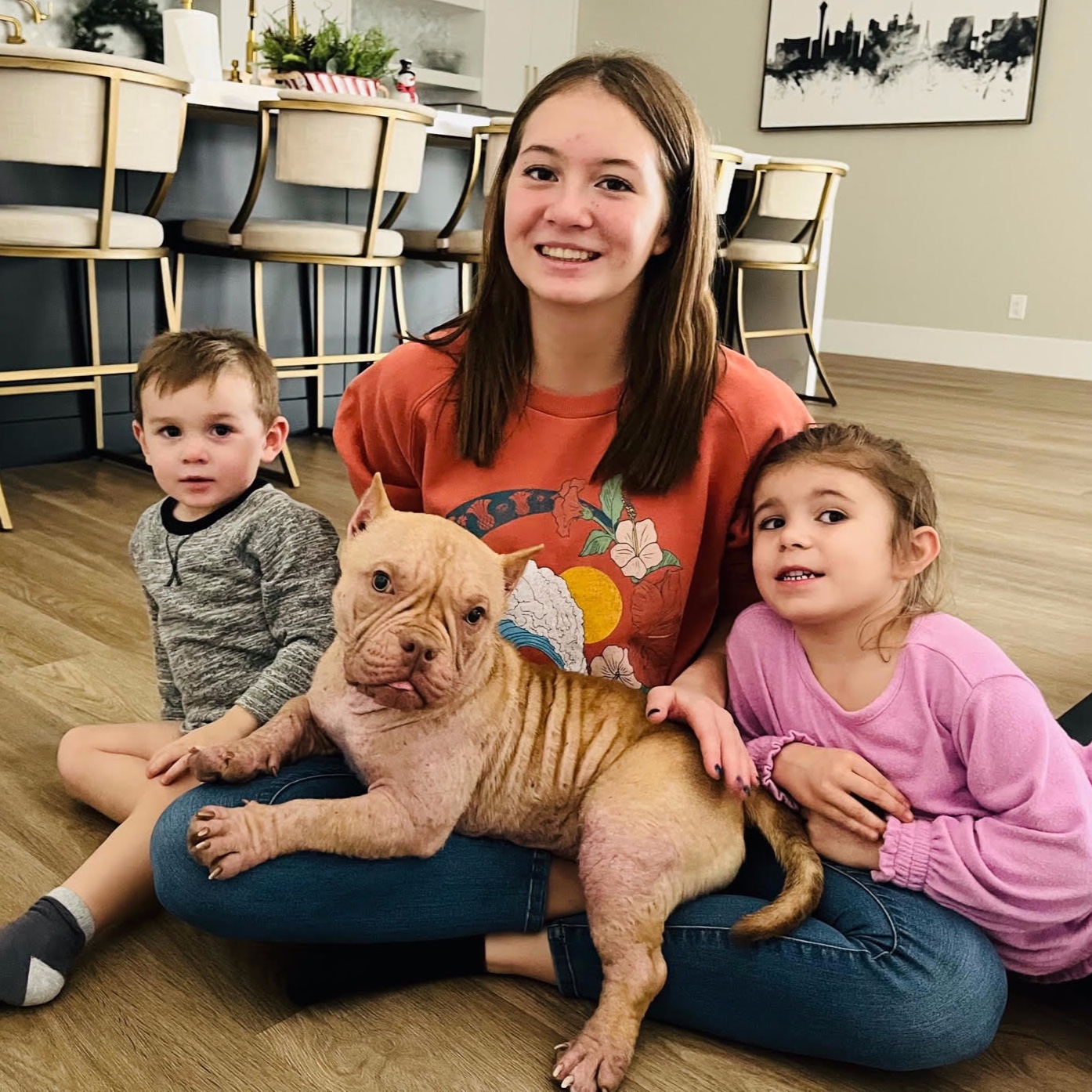 She spends her days running around with the foster family's children, and they are in love with her! She is a cuddle bug who loves sleeping next to the family's slippers and laying in the sun. Sometimes, she wears socks, and she's looking better every day!
Thank you to Penny's dedicated foster family for seeing her through all of this — every appointment, medication, and bath.
And a big thank you to our amazing supporters for helping Penny when she needed it the most. Penny has made incredible progress that wouldn't have been possible without your support.
A week later, Penny is on her way to recovery!
What could be better than watching our sweet Penny get better before your very eyes?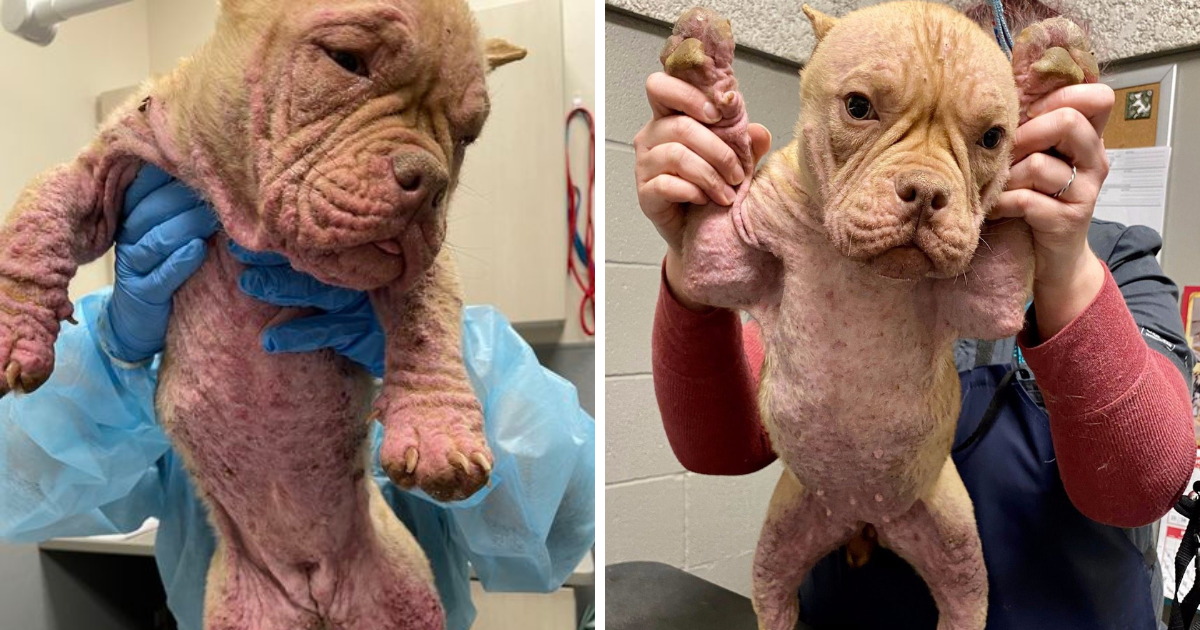 The photo on the left is what Penny looked like when she came to us one week ago covered in mange. The photo on the right is what she looks like today!
She's responding well to medicated baths and antibiotics, and she leaves for a foster home today. We can't wait to follow her amazing transformation!
Scrub a dub dub! Penny's in the tub!

Penny came to us on Wednesday night covered in mange, and she's being cared for by our wonderful and caring team. She is responding well to medicated baths and antibiotics.
It will take a few weeks for this sweet girl to heal. In the meantime, she's getting lots of love from our team, and she will soon go to a foster home to recover.
Thank you to everyone who donated to Penny's care. We couldn't do it without the generous support of people like you. From all of us at The Animal Foundation, we truly thank you.
We established our CARE Fund for animals like Penny who need special care in extreme circumstances. When you donate to the CARE Fund, 100% of your donations go to medical care.
We received so many donations for Penny, we can now help other animals who need immediate care.
Penny Needs Your Help to Transform Her Life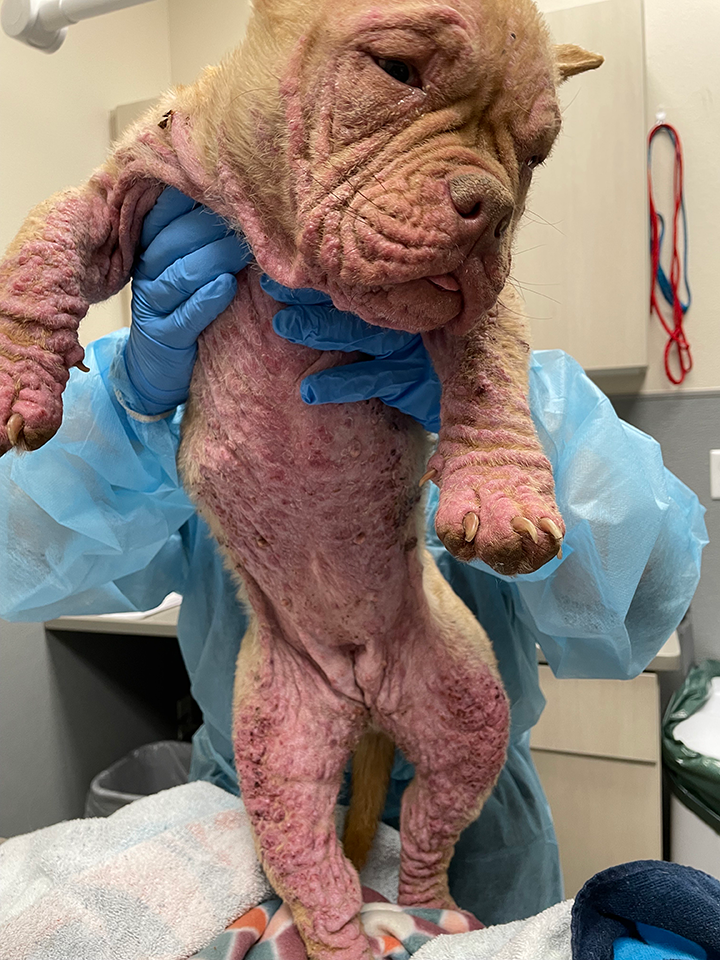 Last night, Penny came to us in itchy agony.
At just one year old, she was found on the streets of Las Vegas suffering from an extreme case of mange.
Her skin is so severely affected, it bleeds. She has hair loss, open sores and scabs, and thick, crusty patches of skin.
Because most of her body is covered in mange, it's uncomfortable to do normal activities. It hurts to stand. It hurts to play. It hurts to do just about anything a dog would do.
Animal Protection Services found Penny this way and rushed her straight to The Animal Foundation for immediate care.
Mange is an irritating skin condition caused by microscopic mites that infest the skin. Although Penny's body appears to be beyond hope, mange is treatable and she's already responding well to the care she's received at The Animal Foundation so far.
No matter how much she hurts, Penny is still sweet and cuddly. She's 17 lbs of joy.
We are asking for donations so that we can provide this sweet girl with the treatment she desperately needs.
Penny is getting medicated baths, antibiotics and special treatments. It will take a few weeks for her to heal.
Let's show Penny what a little love, patience, and medical care can do. Together, we can give this sweet girl the lifesaving second chance she deserves.
Please consider donating today to help us ensure Penny recovers and lives a life full of kisses, cuddles and playtime: Donate to Penny's Life-changing Care