How to Avoid Periodontal Disease in Dogs and Cats
How to Avoid Periodontal Disease in Dogs and Cats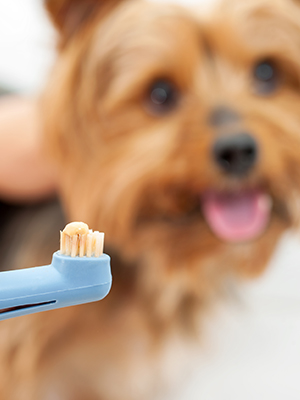 Does your cat or dog have bad breath? While annoying, it could be a sign of something more serious. Periodontal disease (also called dental or gum disease) in dogs and cats has the potential to irreversibly damage not only your pet's teeth and gums, but also internal organs. Learn how to spot the symptoms and prevent disease altogether!
What is periodontal disease in dogs and cats?
Periodontal disease is an infection caused by the bacteria found in dental plaque. Without regular cleaning, dental plaque builds up and hardens into tartar that firmly attaches to the teeth. When this tartar and bacteria gets trapped under the gum line (which isn't visible to pet owners), a vicious cycle of infection and damage to the tooth and supporting tissue begins.
As periodontal disease progresses, your dog or cat will experience increasing pain, difficulty eating, and eventually, tooth loss. Periodontal disease may also cause significant, life-threatening issues with major organs – the heart, liver, kidneys, and nervous system can be damaged when bacteria from the mouth gain access to the bloodstream in a process called bacteremia. Approximately 80% of dogs and 70% of cats show some signs of periodontal disease by the time they are three years old.
What are the signs of periodontal disease in dogs and cats?
Pets developing periodontal disease may begin showing these symptoms:
Tooth discoloration or visible tartar
Bad breath
Difficulty eating
Pawing at the teeth or mouth
Drooling
Weight loss or loss of appetite
Discharge from the nose
Swelling under the eyes
Loose or missing teeth
Red, swollen or bleeding gums
How can you prevent periodontal disease in dogs and cats?
The key to managing periodontal disease in dogs and cats is prevention!
Brushing you pet's teeth
Brushing your cat or dog's teeth is the single most effective means to maintain oral health between professional dental examinations. If your pet is still a puppy or kitten, begin tooth brushing early as young animals will more easily adapt to the process. Daily brushing is recommended to maintain optimal dental health. Most dogs will eventually accept brushing, but a patient and gradual approach is required, brushing mainly the outsides of the "cheek teeth" located under the upper lip. Do not use human toothpaste as they contain ingredients that should not be swallowed or inhaled by dogs and cats! Pet-specific toothpastes are safe and come in flavors cats and dogs prefer. Not sure how to properly brush your dog or cat's teeth? The American Veterinary Medical Association's video on How to Brush Your Pet's Teeth can get you started.
Other ways to care for your pet's teeth
If your dog or cat is completely unwilling to allow brushing, there are other options on the market that can be helpful. There are dental wipes, gels, chews, and water supplements. Before buying anything, you should consult with your veterinarian and you may want to refer to the list of products that have been granted the Veterinary Oral Health Council or VOHC Seal of Acceptance for dogs and cats.
In addition to daily tooth brushing at home, your pet will need veterinarian dental cleanings. A more thorough procedure than home care can provide, professional cleanings should begin at one year of age to prevent periodontal disease in dogs and cats from occurring. These cleanings will typically be done once a year, but the frequency will depend on the success of at-home dental care.
Remember – the best time to prevent disease is BEFORE you see symptoms! February is National Pet Dental Health Month, and many veterinarians are having specials on dental care. Now is a great time to schedule an appointment with your veterinarian to start or continue your pet's dental health plan. A healthy pet is a happy pet!