Fostering a Pet Extends a Lifeline to Animals in Need
Fostering a Pet Extends a Lifeline to Animals in Need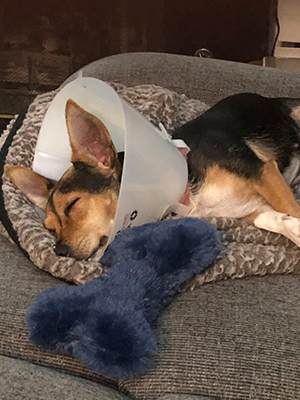 Fostering a pet in need can be one of the most rewarding experiences you'll ever have. For someone who has lost a pet but is not yet ready for another permanent commitment, fostering can also be a valuable healing experience.
When Polly Williams, a Las Vegas middle school teacher, lost her pet Jack Russell Terrier, Gracie, at seven years, she turned to fostering with The Animal Foundation as a way to channel her grief and do something to give back to the community. Today, Polly is one of the animal shelter's most dedicated pet fosters, having cared for more than 100 pets not yet ready for adoption.
The Rewards of Fostering a Pet
According to Polly, the process of caring for a dog in need and then returning the dog so he or she can find his or her forever home is the most rewarding part of fostering. "In our home, all life is precious. We find that making a difference in the life of any animal in need is a worthy way to spend our time as a family."
Together with their four children, ages 16, 18, 20, and 22, each of whom counts picking up pet waste as part of their regular household chores, Polly and her husband have fostered pets for nearly four years now. "Watching a shelter rescue that has been homeless and neglected blossom when they realize they are safe and loved is magical," says Polly, pointing to the case of a Husky named Aspen who had been abandoned and left for dead in the desert. "We witnessed Aspen's transformation into a completely different dog after just two weeks. The change was so amazing and satisfying to watch," says Polly.
The Challenge of Fostering a Pet
According to Polly, the hardest part of fostering pets is when the children get attached to a particular dog. However, Polly also acknowledges that she herself can get emotionally attached. "How can you not get attached to these animals?" she asks, while recalling some of her favorite foster memories. They include Mr. Buttons, who howled every time he found himself alone in a room of the house, or Berlin the German Shepherd, who refused to get in the car for trips to the clinic for health exams unless the entire family coaxed and pushed him in. There was also Pepper, the tiny underage puppy who was rescued last year by a Las Vegas Metropolitan police officer following a car chase. After several weeks in foster care with Polly, Pepper was eventually adopted by the same police officer who rescued her after he visited Pepper in Polly's home.
The "How" of Fostering a Pet
It doesn't take much to foster and help to save a life. By opening your heart – and your home – for as little as a few weeks, you can help to save the lives of pets who are underage, sick or injured that need a quiet, stress-free environment and a little more TLC than can be provided in a shelter environment.
At the animal shelter, our foster coordinators will work directly with you to make sure your foster match is the right one for you, your lifestyle, and your schedule. In most cases, placements last from two weeks to two months. No special skills are required, just dedication, time, and patience. The Animal Foundation provides you with everything you need, from food to medications, litter boxes, bowls and toys, depending on what is needed.
According to Polly, fostering a pet can be a great way to find out if you're ready to add a dog or cat to your household. "No matter what your circumstances, fostering pets is a wonderful and personal way to contribute to saving homeless animals," says Polly.
Visit Foster a Pet for information about becoming a foster caregiver. All foster parents must be 18 or older.
Fostering Program Update
Not sure if you're ready to foster? Our Foster Field Trip Program is designed to get adoptable animals out of the shelter for as little as an afternoon, a weekend, or a few weeks. Getting out of the shelter can be both physically and mentally reinvigorating. This allows the animals to relax, de-stress, and "be themselves" and gives you a chance to decide if fostering is right for you.