10 Tips for Selecting the Right Cat
10 Tips for Selecting the Right Cat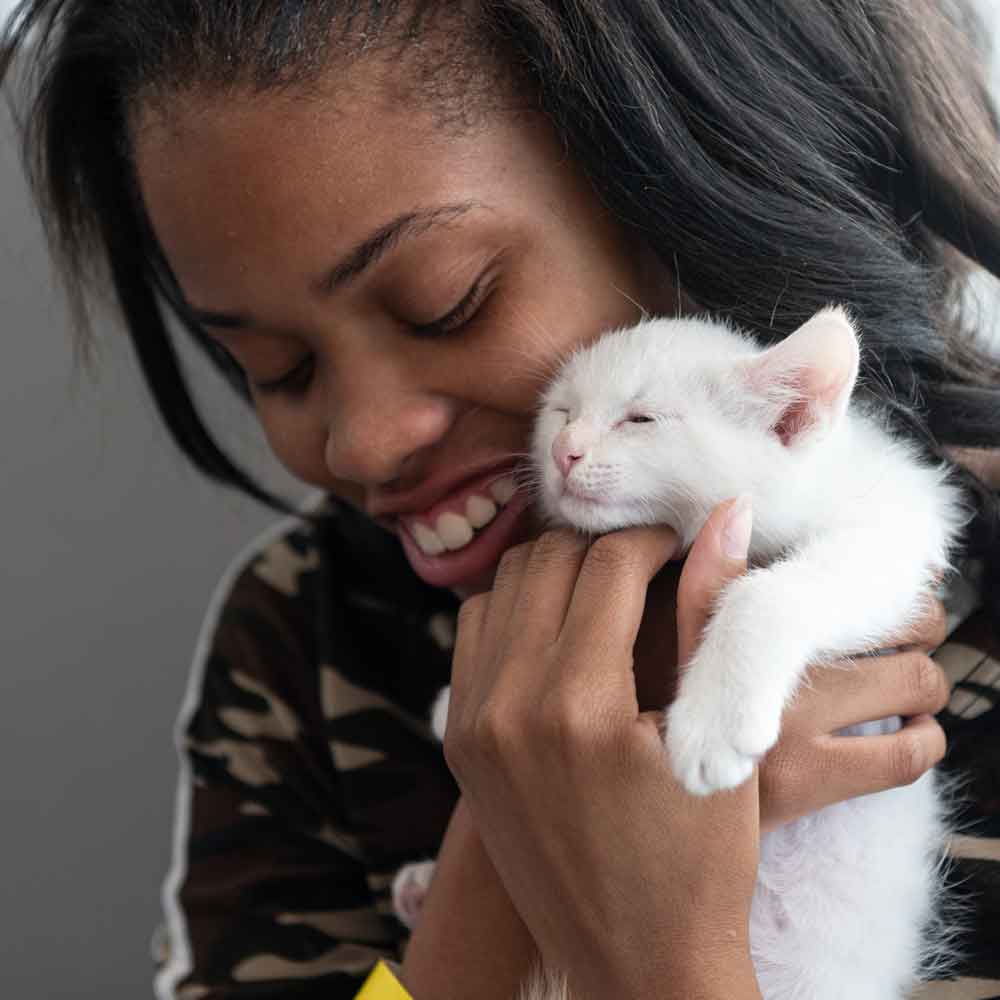 So, you want to adopt a cat. Here at The Animal Foundation, we have the perfect feline friend for you. Our adoptable cats range in size, age, color, and temperament. Some are snugglers and others are quite talkative. Here are ten tips to help you select the right cat for you.
Know Your Experience Level
Kittens are definitely cute and cuddly, but they are also a lot of work. Kittens usually require more training in household manners and your home will need to be kitten proofed. Kittens also have a knack for getting into everything. Adult and senior cats tend to be less work than kittens. They are already litter box trained, can easily find their food and water, and can safely be left alone.
Whatever age group you are looking for when visiting The Animal Foundation, we can help you find the perfect cat. Our staff can help coach you on additional proofing and training tips for bringing your kitty home with you.
Consider the Children in Your Home
Babies and toddlers are busy bees. Kids tend to have the urge to improperly handle pets which can be dangerous for everyone. If the cat you choose seems skittish or easily startled, you'll want to prepare your family to engage with your cat calmly and quietly. If you choose a kitten, you'll want to instruct your children on how to properly hold, pet and play with their new friend. We can help you select a cat that is a good fit for your whole family.
Consider the Type of Home You Live In
Do you live in a small apartment or a large home? Do you have roommates? All of these factors can help determine what kind of kitty you should bring home. If you live in a small space, an adult or senior cat may be the perfect fit for you. Although they are still playful, adult and senior cats tend to have less energy than growing kittens.
If you live in a large space, you'll want to consider what areas you will want to give your cat access to. Many cats love to hide, but you don't want them to spend the majority of their time hidden. Simple solutions could be closing doors to rooms and providing lounging items like pillows, beds and cat trees in other areas.
What is your work life like?
Are you home a lot or gone all day? Although cats can be self-sufficient, they do need daily attention. Your kitty will need some playtime, petting, and loving interactions. If you are gone all day, adopting a kitten may not be the best choice. These little ones need lots of stimulation and attention. If you are not giving your pet enough attention, it could lead to behavior problems later on.
Another solution, if you are at work all day, is to adopt a bonded pair of cats. Normally, kittens are young enough to go to separate homes. However, we do allow you to adopt two cats from the same litter. This also applies to adult and senior cats.
What is your social life like?
Does your lifestyle include lots of visitors? Answering this question will help you determine if you want a very social cat or a calmer cat. Shy cats can feel overwhelmed with too many social gatherings.
Remember Grooming Responsibilities
Brushing your cat at least twice a week is a requirement for being a responsible pet owner. Longhaired cats especially need extra attention to make sure they remain knot-free. Be sure to consider the cost of local groomers who can help with haircuts, nail trimmings and baths.
Think About Your Personality Preference
Are you looking for a playful cat or a lap cat? Cats have very strong personalities and our rescue kitties do too! Once you spend time with a cat out of its kennel, you'll really see its personality blossom. Most cuddly kitties at the shelter will continue to be lap cats at home. If you meet a really spunky feline in our cat adoption rooms, they'll most likely be even more playful at home. Feel free to ask one of our staff members or volunteers for help while you're here on campus.
Learn About Dog to Cat Introductions
Is your dog cat-friendly? You'll want to set up your house for harmonious living prior to bringing your rescue cat home. Kittens, confident adult cats and cats who have previously lived with dogs generally do well in a new home with dogs. Shy cats can be fearful at first with a high energy pooch. It's important to give both animals enough time and space to comfortably get accustomed to each other. Make sure all interactions are supervised. You may also need to have separation from food bowls or the litter box.
Learn About Cat to Cat Introductions
What is the temperament of your cat at home? This can help you find a shelter kitty that will be a perfect fit for your cat. If your cat is mellow, spend some time with our senior or adult kitties. If your cat is very playful, an active adult or busy kitten may be a good match. Just like with dogs, you want to make sure your cats have plenty of space and time to get used to each other. You will want to always supervise interactions, at least in the beginning.
Will your cat strictly live indoors?
Many house cats are comfortable living strictly indoors and getting their dose of the outside world from sunlit windows. Other cats enjoy breathing in the fresh air. Whatever your cat's preference is, make sure that you are prepared. Keep your cats' vaccines up-to-date and make sure they are spayed or neutered. Many owners also invest in walking harnesses and cat-proofed fences for their backyards.
Our adoptions building is open daily from 11 a.m. to 7 p.m. and we are located at 655 N. Mojave Rd. LV, NV 89101. We do have a satellite adoptions site inside of PetSmart located at 286 W. Lake Mead Parkway in Henderson. Our adoption fee for cats 6 months and older is $25. Kittens under 6 months are $75 or you can adopt two from the same litter for $100. Adoption fees include spay/neuter surgery, vaccines and microchipping.
Stop by! We would love to help you in your process of bringing a new feline family member home.