10 Cat & Dog Treat Recipes for the Holidays
10 Cat & Dog Treat Recipes for the Holidays
Giving your cat or dog treats during the holidays is tempting, but sharing people food could be a recipe for disaster. People food can be full of fat, sugar, salt, and other seasonings and ingredients that can make your dog or cat sick. Instead of sharing your holiday feast, use this collection of ten cat and dog treat recipes to make them their own pet-friendly banquet!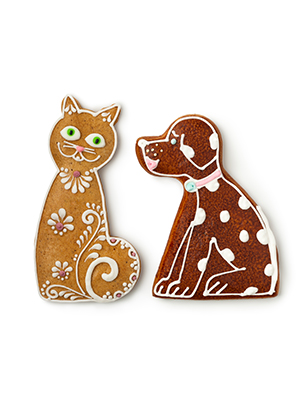 1. Need an idea for what to do with leftovers? Set aside some turkey (make sure it's unseasoned) and cranberries for Turkey and Cranberry Dog Bones. They're sure to be gobbled up in no time!
2. You'll get two paws up when you make Izzy's Apple Cheddar Dog Biscuits for your pup. Use a holiday-themed cookie cutter to make them extra appropriate for the season!
3. A delicious and healthy treat for your cat are these 3-Ingredient Salmon Treats full of omega-3 fatty acids and calcium. These healthy treats are as good for dogs as they are for cats!
4. Making a sweet potato side dish for your friends and family? Grab an extra spud and create these dog-friendly Sweet Potato Peanut Butter Sandwiches. People can eat them, but we think your pooch will enjoy them more!
5. Cross "better pet breath" off your gift wish list; the Apple Mint Christmas Dog Bones from have you covered! The mint helps freshen dog breath and aids in digestion, too.
6. If your cat goes crazy for tuna, try these Crunchy Tuna Cat Treats. Talk about being the purrfect holiday treat!
7. Want to whip something up in a hurry? These Two-Ingredient Dog Treats should do the trick. This recipe looks totally tasty, as do the other nine dog treat recipes featured in her blog post!
8. Swap the dry kibble for a fancy slice of Woof Loaf! This recipe is sure to bow-WOW your dogs (and cats!), and it's a great grain-free option if your furry family member has allergy or diet restrictions.
9. These Pumpkin Peanut Butter Dog Treats are sure to be a hit year-round with furry family members. They're good for them, too, as pumpkin is loaded with fiber and beta-carotene.
10. This recipe for Homemade Organic Cat Treats adds a little kick of catnip (optional) for feline aficionados of this herb!
Not only are homemade cat and dog treats easy to make, it's a fun holiday activity to share with your friends and family. Consider making extras to give as gifts to other pet parents in your life!
If you prefer to let someone else do the cooking, you can pick up holiday pet treats from local pet bakeries in Las Vegas like Three Dog Bakery, Bogart's Bone Appetit, Woof Gang Bakery, Barking Dogs, and more!
Always remember to check with your veterinarian regarding your pet's dietary needs and food allergies. These treats are for special occasions and shouldn't replace your pet's regular meals! Inclusion on this list is not an endorsement of The Animal Foundation. We make no claims of suitability of these recipes for your particular pet. Please use your own discretion.
You may also like: