Meet our Playgroup Rockstars
Meet our Playgroup Rockstars

In a unique collaboration, national nonprofit organization Petco Love is teaming up with Dogs Playing for Life and BOBS from Skechers™ for a National Playgroup Rockstars Adoption event at The Animal Foundation.
This event will take place on Saturday, October 7th from 11 AM - 1 PM and 2 PM - 4 PM (even rockstars need lunch breaks), and all Playgroup Rockstars will be fee-waived!
The adoption event will highlight social dogs, "Playgroup Rockstars," at our shelter while they are playing harmoniously in groups, so potential adopters can see their personalities shine!
What are the different types of Playgroup Rockstars?
During this event, we'll have different playgroups going at the same time. We categorize dogs into different playstyles depending on how they prefer to interact with other dogs. You can click below to learn more about each playstyle!
Gentle/Dainty (GD)
Gentle/Dainty (GD): a dog playstyle involving relatively quiet, mutual play with frequent starts and stops and minimal physical contact. These dogs may become nervous with rough play.
Rockstar analogy: a quiet and calm music listening session.

Push/Pull (PP)
Push/Pull (PP): Dog playstyle involving chasing, driving, and heeling. These dogs are motivated by movement and play can get noisy due to demand barking. This style of play is sometimes but not always mutual and can be antagonistic to others.
Rockstar analogy: a very loud karaoke battle.
Rough/Rowdy (RR)
Rough/Rowdy (RR): Dog playstyle involving lots of physical play such as grabbing, holding, and tumbling. It is typically mutual and often noisy. It tends to escalate and de-escalate, and can on occasion trigger conflict.
Rockstar analogy: entering the mosh pit at your favorite concert.
Seek/Destroy (SD)
Seek/Destroy (SD): Dog playstyle that is rooted in prey drive and involves role-playing (predator and prey). This style of play may not look mutual to people and is often noisy (growling and squealing).
Rockstar analogy: finding the ultimate thrill in crowd surfing, regardless of who you land on in the crowd.
Meet our Playgroup Rockstars
These are just a few of the dozens of Playgroup Rockstars that will be out playing this Saturday. Come meet them for yourself and take home a rockstar of your very own!
Lolita | A1281492 | Gentle/Dainty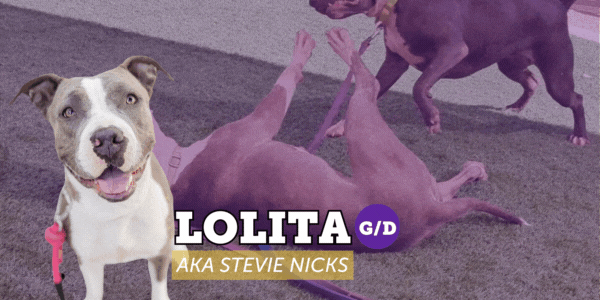 You might hear Lolita be referred to as the Stevie Nicks of our shelter -- she is such a flirt! This sweet and social girl loves to play with both boys and girls during our shelter playgroup sessions. Like her rocker namesake, she greets everyone she meets with a big smile, and maybe even a kiss. Lolita is our greeter dog during playgroup, which means she is the star of every show she's a part of, but enjoys sharing the stage with her friends. Her "Gentle and Dainty" playstyle is a hit with all of the dogs and even some of the people at the shelter. She's calm and sweet when she plays, always making sure that everyone is having as good of a time as she is! Stop in and see why this girl has everyone she meets swooning!
Matthew | A1279316 | Push/Pull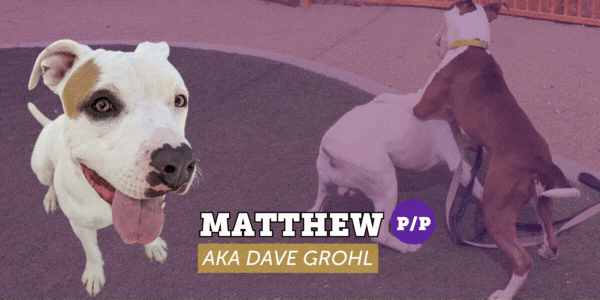 Matthew is the canine embodiment of Dave Grohl's rockstar charm and enduring talent. At three years old, Matthew shares Grohl's dynamic personality, evident in his playful push/pull style during shelter playgroup sessions. Much like the versatile musician himself, Matthew harmonizes effortlessly with both boy and girl dogs, radiating a friendly and approachable vibe. Underneath his adorable exterior, Matthew's heart is ready to be your rock 'n' roll partner in life, adding a soundtrack of joy and adventure to your everyday moments. If you're looking for a furry companion who knows how to rock out with boundless enthusiasm, Matthew is here to groove his way into your heart.
Mily | A1273020 | Push/Pull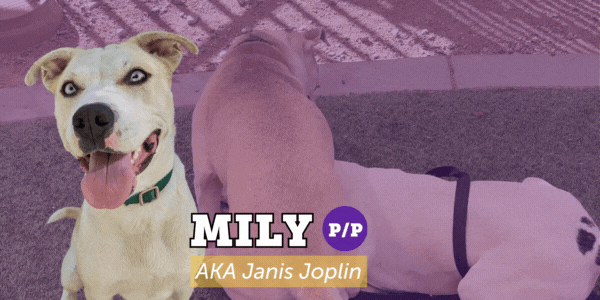 Mily is the canine embodiment of Janis Joplin's spirit in our shelter. This one-year-old beauty is as unique and mesmerizing as the legendary rockstar herself. Mily's heart is as big as her stage presence, radiating love and charisma wherever she goes. Just like Janis, she harmonizes effortlessly with both males and females in the shelter playgroup, offering a gentle push and pull playstyle that mirrors her laid-back nature. Mily's medium-sized frame makes her the ideal road trip companion, ready to jam out to Janis Joplin tunes on those long car rides.
Lacey | A1273020 | Push/Pull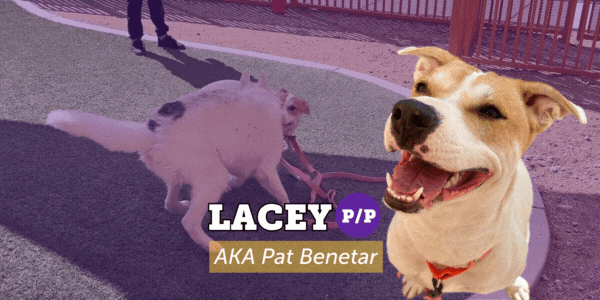 Lacey is our shelter's very own Pat Benatar because she exudes vibrant energy and intelligence. At three years old, Lacey is a dynamic and spirited pup, much like the iconic rockstar herself. With a playstyle that mirrors the power and finesse of a Benatar anthem, Lacey effortlessly plays with dogs of all genders, making her a true rockstar in the playgroup. Beneath her charming exterior lies a heart of gold, ready to conquer your world with love and enthusiasm!