Events and Promotions
Events and Promotions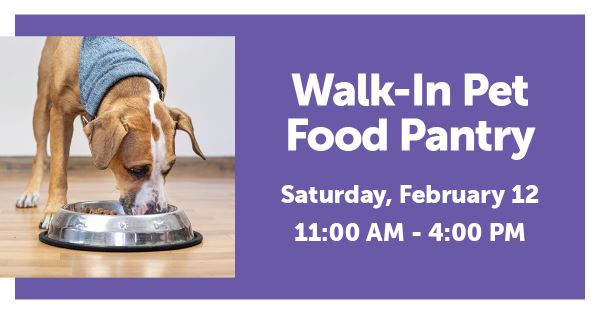 Walk-In Pet Food Pantry
February 12, 2022 | 11:00 am - 4:00 pm
The Animal Foundation's Keeping Every Person and Pet Together (KEPPT) Program is providing free pet food assistance for walk-in guests.
WHEN: Saturday, February 12 • 11:00 AM - 4:00 PM
WHERE: The Animal Foundation • 655 N. Mojave Road
Pet food pick-up will take place to the right of the Adoption Center in Maddie's Lifesaving Community Center.
Face mask required for pet food pick-up. Food available for dogs and cats only.
Please call (702) 955-5910 with any questions.
While supplies last. Guests will be seen in order of arrival. Must present ID. Type of food is not guaranteed. Quantity of food is not guaranteed or uniform across all guests. Food assistance will be provided for a maximum of three dogs and three cats. Food assistance will be provided at a maximum of once every thirty days. Future proof of sterilization on all animals aided wil be required for subsequent assistance.