10 Questions to Ask Before You Adopt a Pet
10 Questions to Ask Before You Adopt a Pet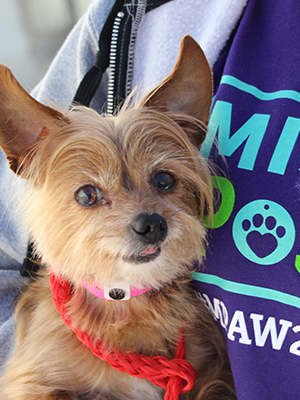 So, you've been considering adopting a pet from the animal shelter? Woohoo! Shelter pets make the best pets and can provide you and your family with a four-legged lifetime of companionship, love, and incredible experiences and memories.
Before you adopt a pet, take some time to talk with your family to determine what kind of pet is best for you. Here are 10 questions to get you started on the incredible adventure of finding the perfect shelter pet for you and your family:
1. What kind of pet is right for you?
Take into consideration your personality and lifestyle. And don't forget to think about challenges like space restrictions, pet policies (for renters) and the amount of time you spend at home every day. Talk to our adoption counselors about the animals they'd recommend for your lifestyle – they're match-making experts!
2. Are you ready to make a long-term commitment?
When you adopt a pet, you are making a commitment to care for your new family member for the rest of his or her life. This could mean 10-15 years for dogs and up to 20 years for cats. As your life changes (you move, have a child, change jobs, etc.), your animal will remain a permanent member of your family. If circumstances change, will you still be able to care for your pet?
3. Can you afford to care for your pet's health and safety?
Owning a pet costs more than just the initial adoption fee. Food, veterinary care, license fees, treats, toys, training, grooming, and other necessities can add up. Before you adopt, make sure you are financially committed to the long-term health and well-being of your pet.
4. Do you have time to care for a pet?
Dogs thrive on exercise, companionship and lots of playtime with their humans, and cats love to be treated to energetic play sessions with their two-legged friends. If your lifestyle causes you to travel often or if you are rarely at home, this might not be the right time to adopt. Make sure you have the time to dedicate to your pet's health and well-being before you adopt!
5. Do you have a pet care plan for when you're working late or have to travel?
Do you have a neighbor, friend or family member who can care for your pet if you get stuck at work or have to travel? Thankfully today there are many options such as doggie daycare, boarding, petsitters, dog-walking services that can come on short notice, that can be called upon when needed. Be sure you have a plan in place.
6. Are you willing to train your animal?
Many adopted pets are returned to shelters like The Animal Foundation's Leid Animal Shelter every year because of a lack of training. By taking the time to train your new pet, you'll be better able to communicate with your pet and your pet-owner relationship will be strengthened.
7. Are you willing to pet-proof your home?
Making sure your home is safe for your new pet is an important step to take before you adopt. This includes keeping toxic foods and plants dangerous to pets out of reach, tightly sealing garbage cans, and closing any gaps in outdoor fencing.
8. Is your home adequate for the pet you're considering?
Will a small apartment be enough room for the energetic dog you're interested in adopting? Does your landlord allow pets or have breed/size restrictions? Make sure you know before you come to adopt.
9. Are you prepared to deal with special pet challenges that may occur?
New pets who are not fully house-trained may have accidents, cats and kittens may scratch furniture or you may find yourself dealing with a flea infestation or an unexpected medical emergency. These are just a few examples of the not uncommon experiences of pet owners.
10. Is your entire family ready for a pet?
If your kids are toddlers, you might want to wait a few years before adopting as children who are older can share pet-care duties. Additionally, you may have another pet at home who isn't ready – and may never be ready – to share his home with another pet. If you have a dog at home and are interested in adopting another, check out these helpful tips for successful dog introductions. Not ready to adopt? Consider becoming a foster parent! Whether it's for an hour, for a week, for a month or forever, The Animal Foundation has a foster opportunity that's right for your schedule.
Adopting a pet is a BIG decision. By answering the questions above, you'll have a better idea of what kind of animal will suit your lifestyle and fit into your family best. Remember, you can view all The Animal Foundation's pets available for adoption online, 24/7, but nothing beats visiting one of our two great adoption locations to search for you new friend in person. You never know what'll happen…maybe someone you overlooked on our website will steal your heart!
You may also like:
10 Reasons to Adopt a Senior Pet
Dog-Friendly Restaurants in Las Vegas